Tēnā koutou,
Summer officially started yesterday and so did our Beach Camp for years 7, 8, 9 and 10 students. I really enjoyed spending time with the secondary students who thoroughly enjoyed the activities organised for them. Year 9 and 10 students from Lawrence Area School joined us yesterday to learn about the beach, beach safety, and how the Kākā Point Surf Club operates. A big thanks to Fiona Wilkinson and Sarah Cairns who organised this camp, as well as to the Kākā Point Surf Lifesavers who gave up their time to share their wisdom with the students.
Today the year one to six students joined in the beach fun, participating in activities that were led by our secondary students. Although the trip ended at lunchtime due to the weather, the students definitely made the most of the beach while they could.
NCEA exams have now finished for senior students and we look forward to seeing them all again at prizegiving on Tuesday the 13th of December. Year 9 and 10 students will have their exams next week and I wish them well.
Enjoy your weekend. Hopefully, summer will make an appearance and we can get outside and enjoy all that summer in The Catlins has to offer.
Ngā mihi,
Glenys Hanley
Principal
---
News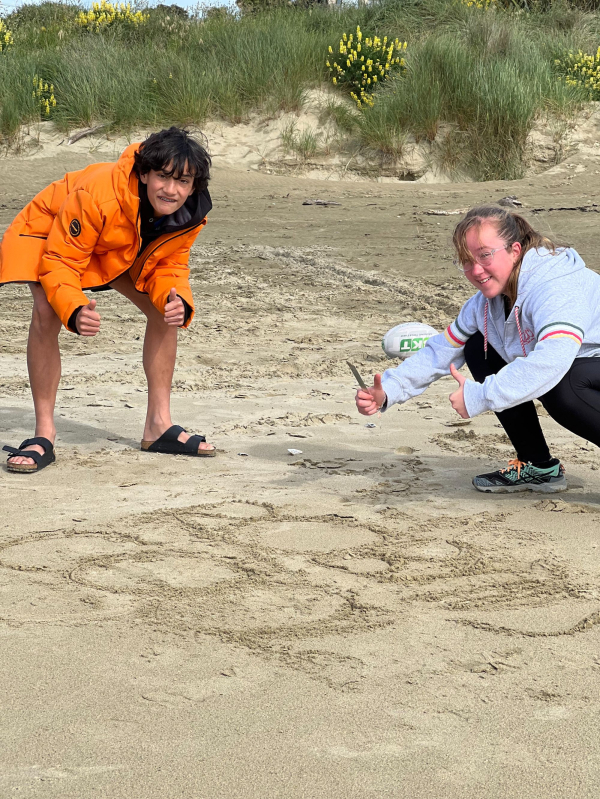 Beach day was a little different than planned but it didn't stop the smiles!
---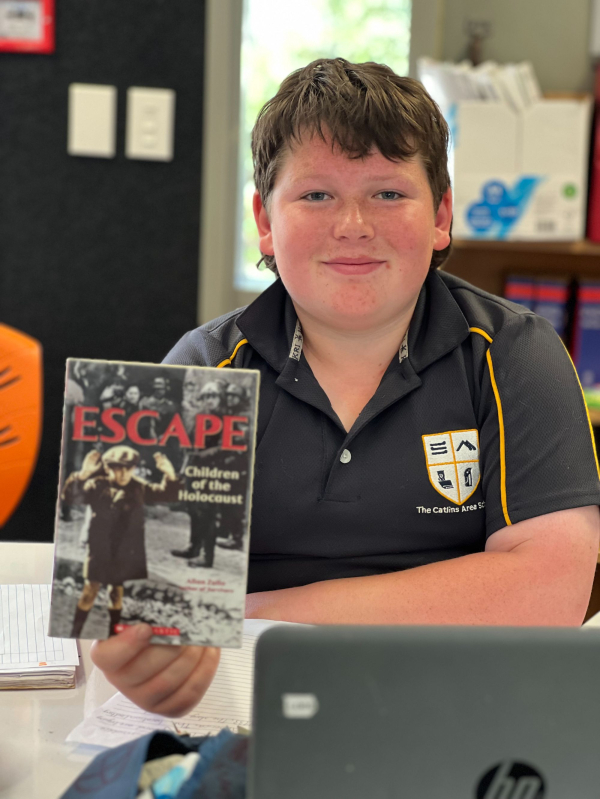 Reading and reports has been a strong focus for two classes these last two weeks.
---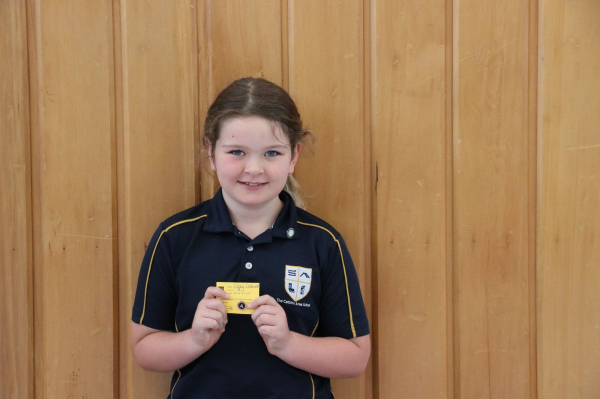 Assembly this week has been all about hākinakina (sports) and poutama (achievement).
---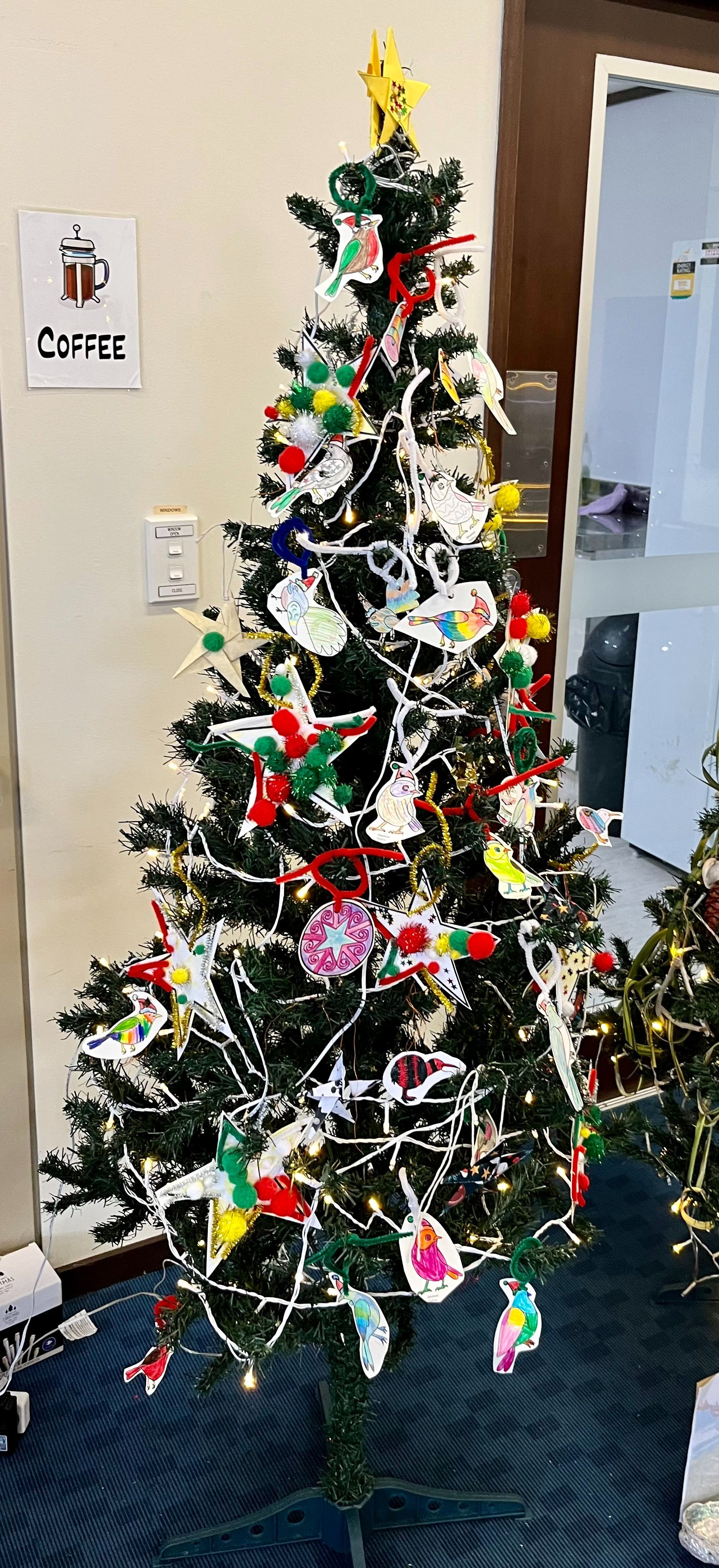 D E C K I N G O U T T H E T R E E
Room 1, with help from students working in the library at lunchtimes, created Christmas decorations for the 'Christmas Tree Extravaganza 2022' in Balclutha. Decorated trees can be viewed at Balclutha Presbyterian Church Hall, 72 Clyde Street. Entry is by gold coin, or can of food for the Clutha Food Bank. Thank you to Ms Darmody for organising this.
---

---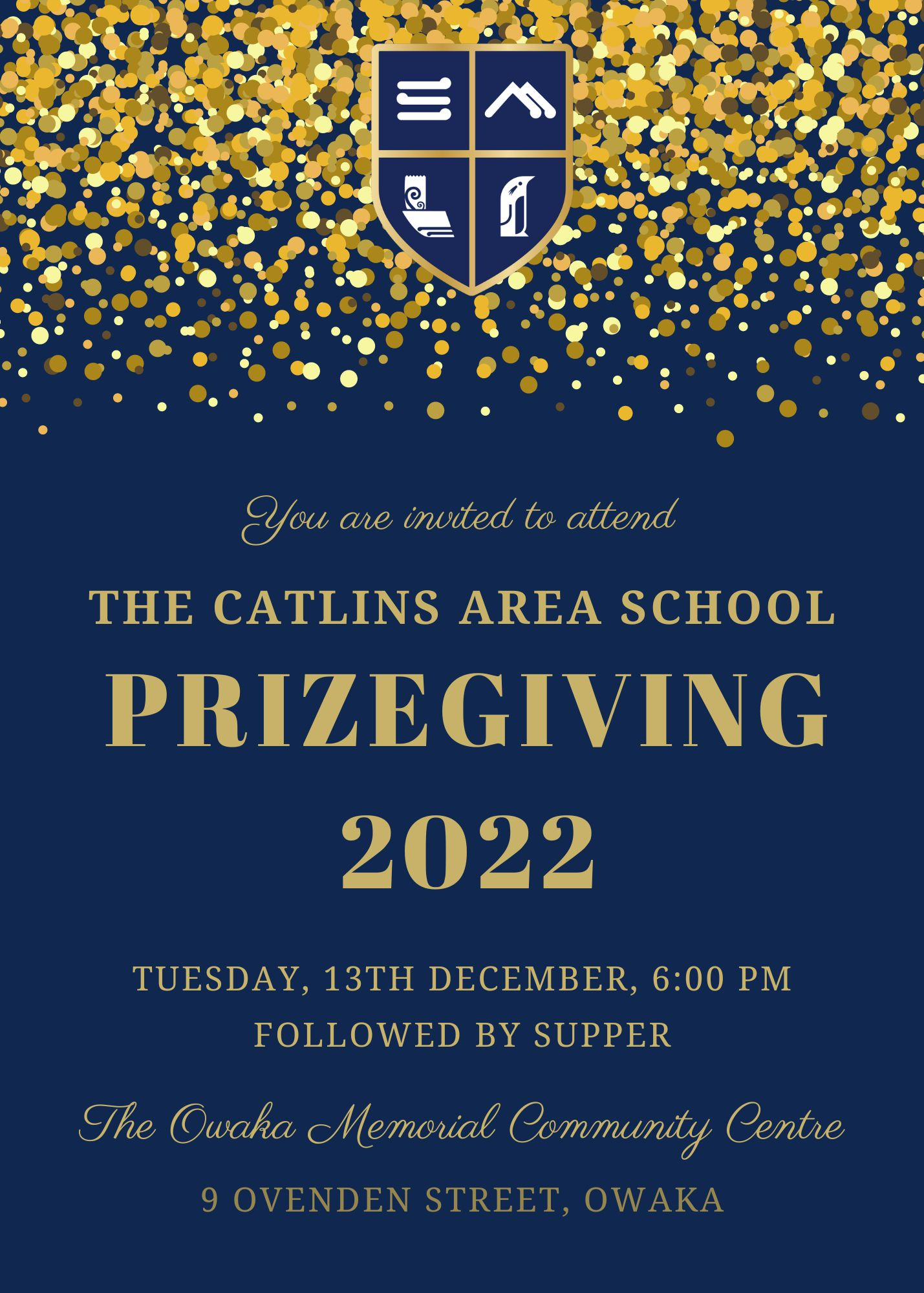 P R I Z E G I V I N G 2 0 2 2
The trophies have been sent to the engraver, the certificates printed and the venue booked. Prizegiving will be held at 6pm, Tuesday 13th December at The Owaka Memorial Community Centre. To further celebrate our year of success, ākonga, staff, parents, caregivers and the community are invited to a shared supper after prize giving. Please bring a plate of finger food to share.
---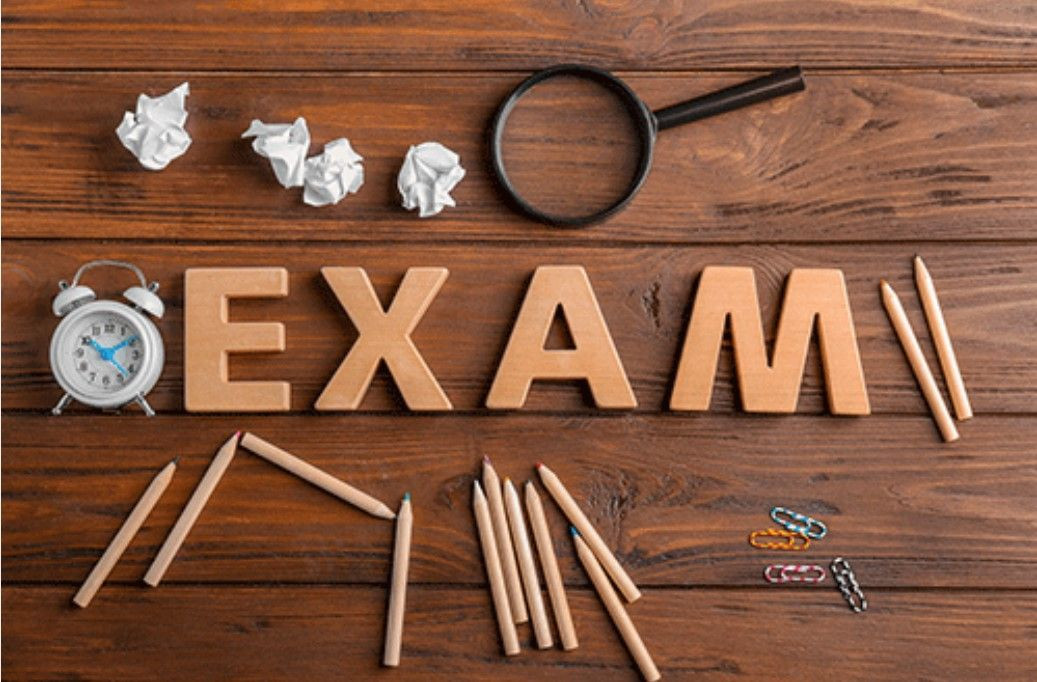 Y E A R 9 / 10 E X A M S
Exams for Year 9 and 10 students are happening next week from the 5th to 7th of December. These are an important opportunity for students to practise revision and exam skills in preparation for NCEA exams in Year 11. Each exam session will be one hour long and from 10am - 11am (Period 2). Monday 5th - English, Tuesday 6th - Science, Wednesday 7th - Maths.
Teachers will talk to students about the exam content for their subject areas and guide them through a revision process.
---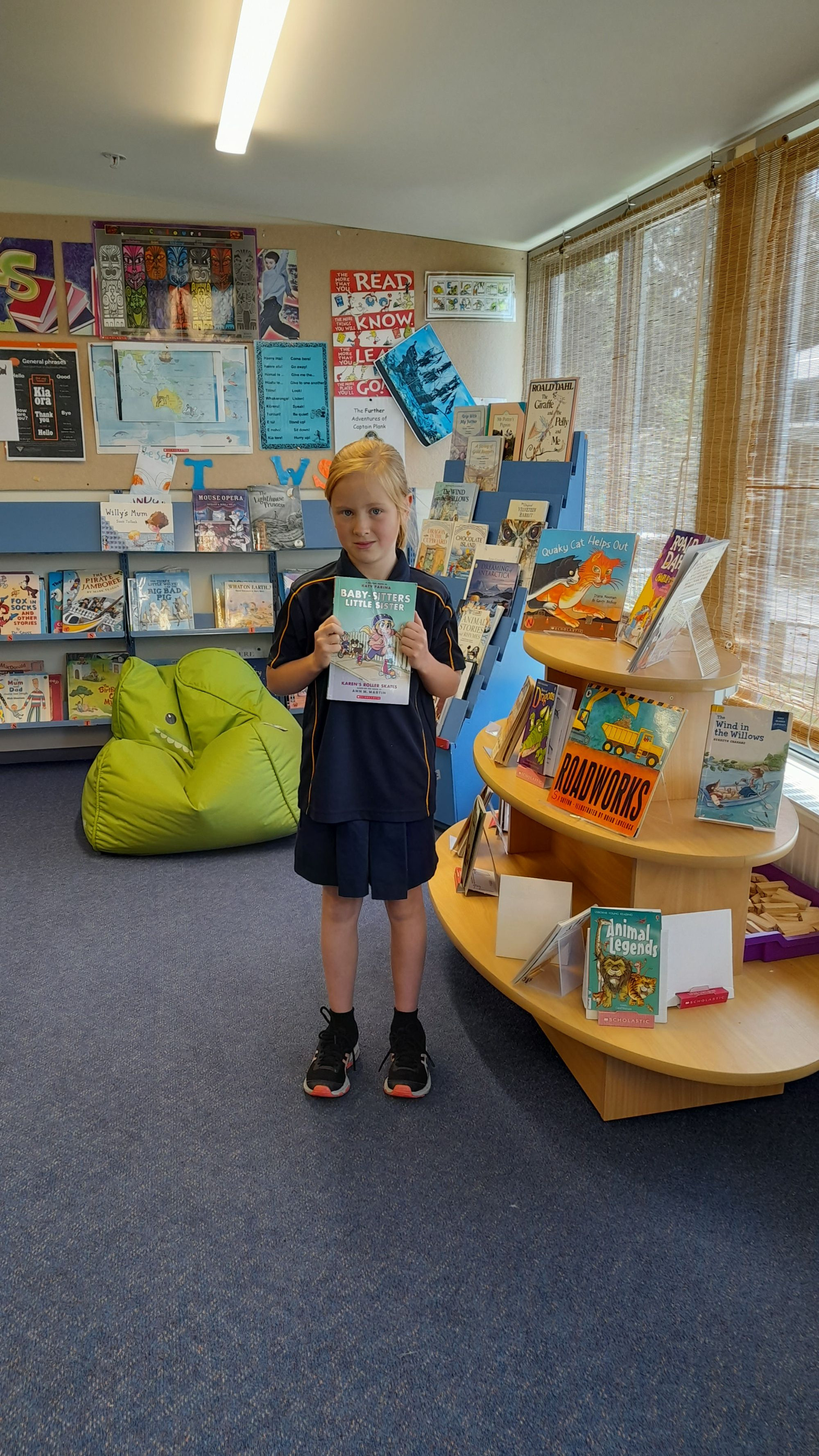 B O O K O F T H E W E E K
Haley Jarvis has chosen a Baby Sitter's book as her Book of the Week. Karen goes roller skating but falls over and breaks her wrist. She is determined to get as many people as possible to sign her cast no matter what. There are four graphic novels in this series and Haley would recommend them to anyone aged 7 years+. These are great stories and colourful illustrations. This is a very popular series that is always in demand.
---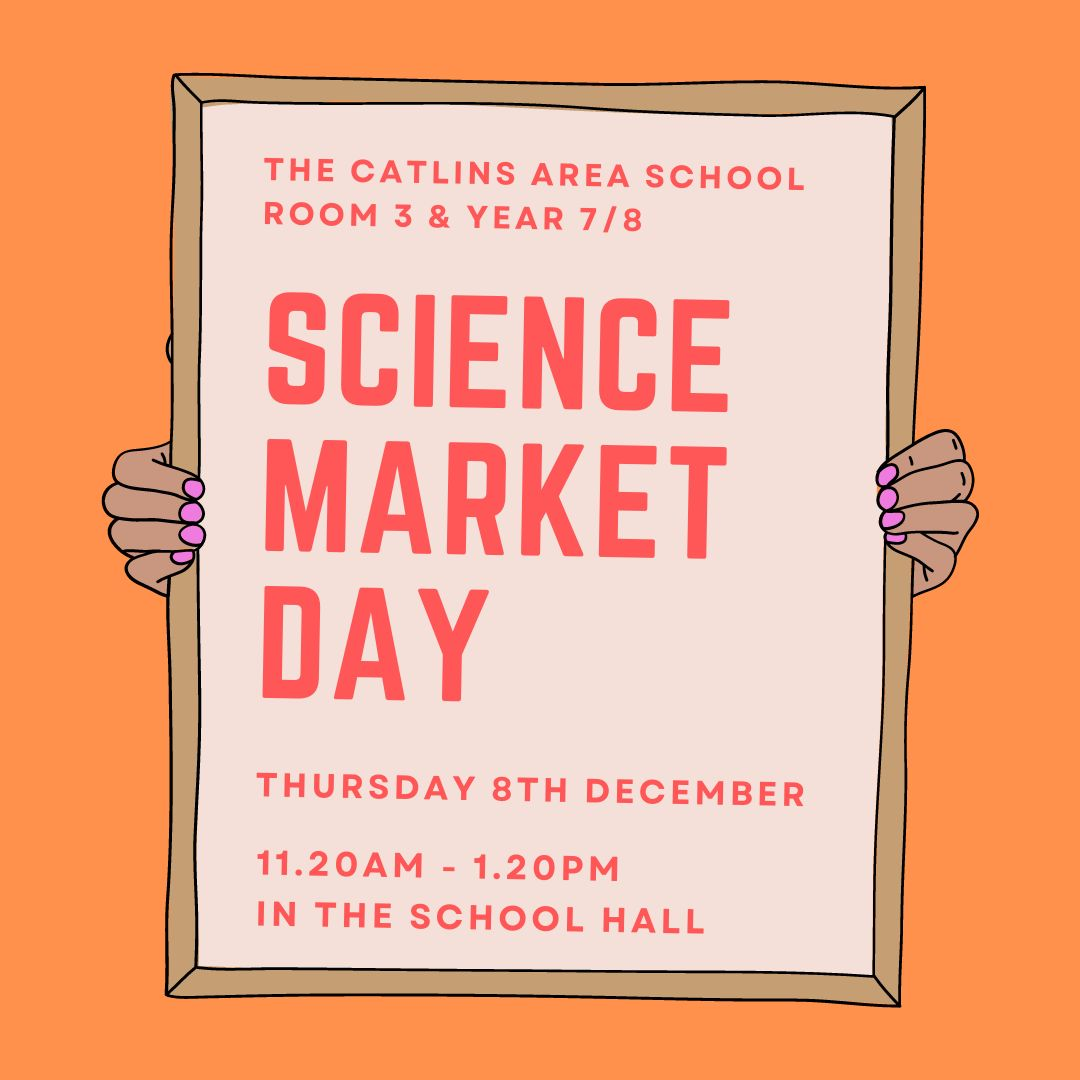 ---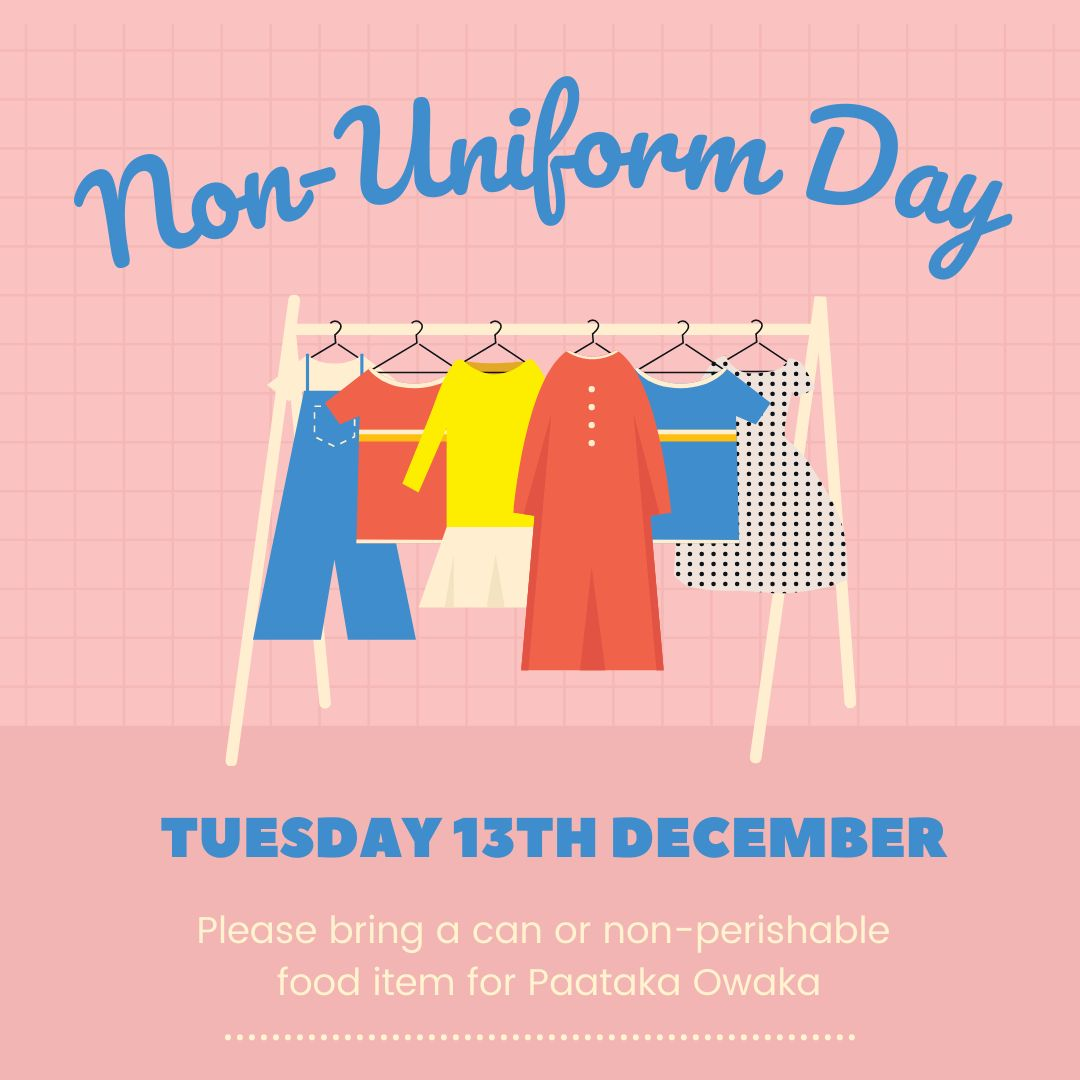 N O N - U N I F O R M D A Y
On Tuesday the 13th December students can come dressed in whatever tickles their fancy. Students are asked to please bring a can or non-perishable food item for Paataka Owaka (our community pantry).
---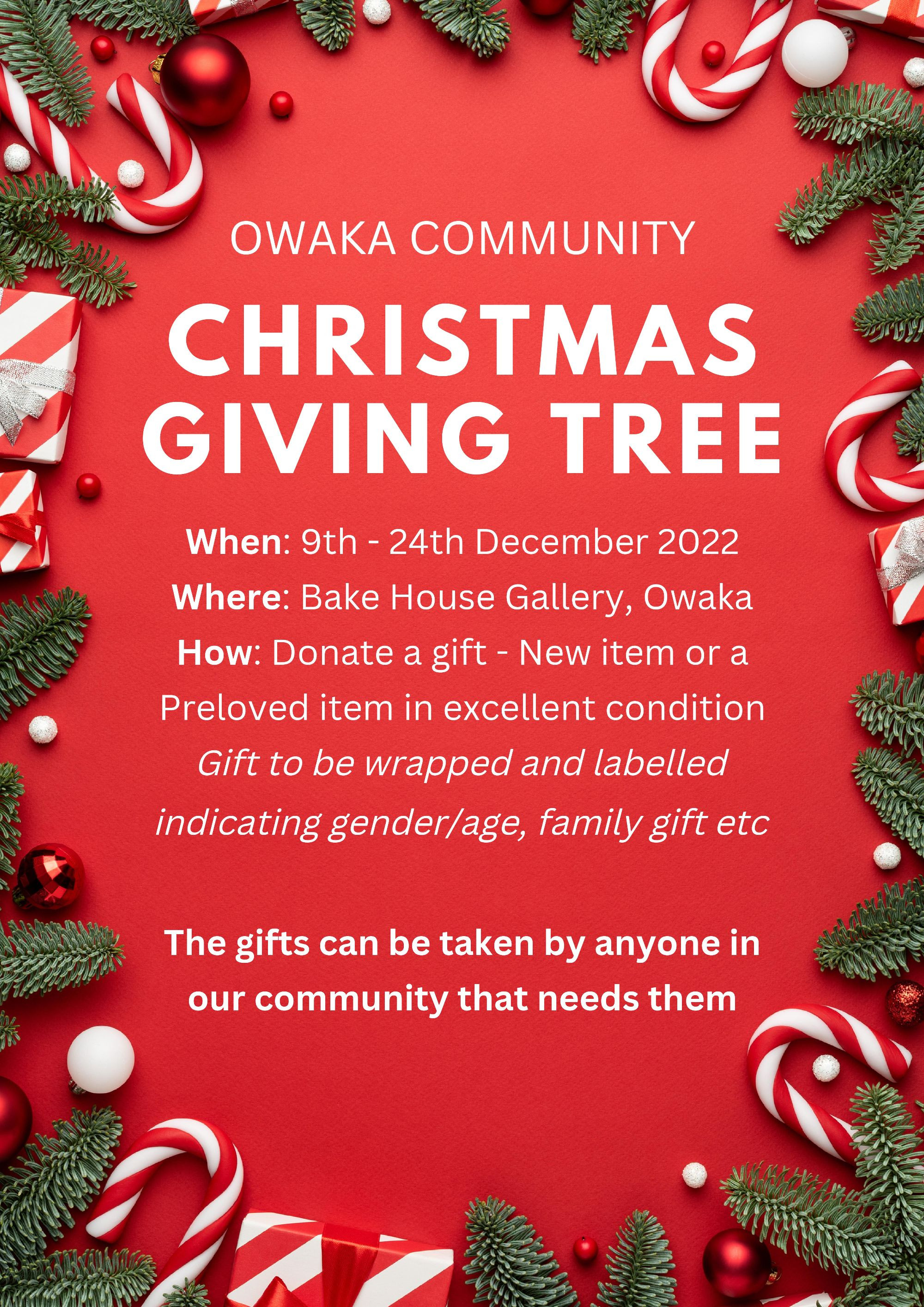 ---

Monday 5th December | English Exam - Year 9/10 @ 10am |
Tuesday 6th December | Science Exam - Year 9/10 @ 10am |
Wednesday 7th December | Maths Exam - Year 9/10 @ 10am |
Thursday 8th December | Science Market Day @ 11.20am - School Hall |
Monday 12th December | BoT Meeting @ 6.30pm - Staff Room |
Tuesday 13th December | Non-uniform Day |
Tuesday 13th December | Prizegiving Practice @ 9am |
Tuesday 13th December | Prizegiving @ 6pm |
---

---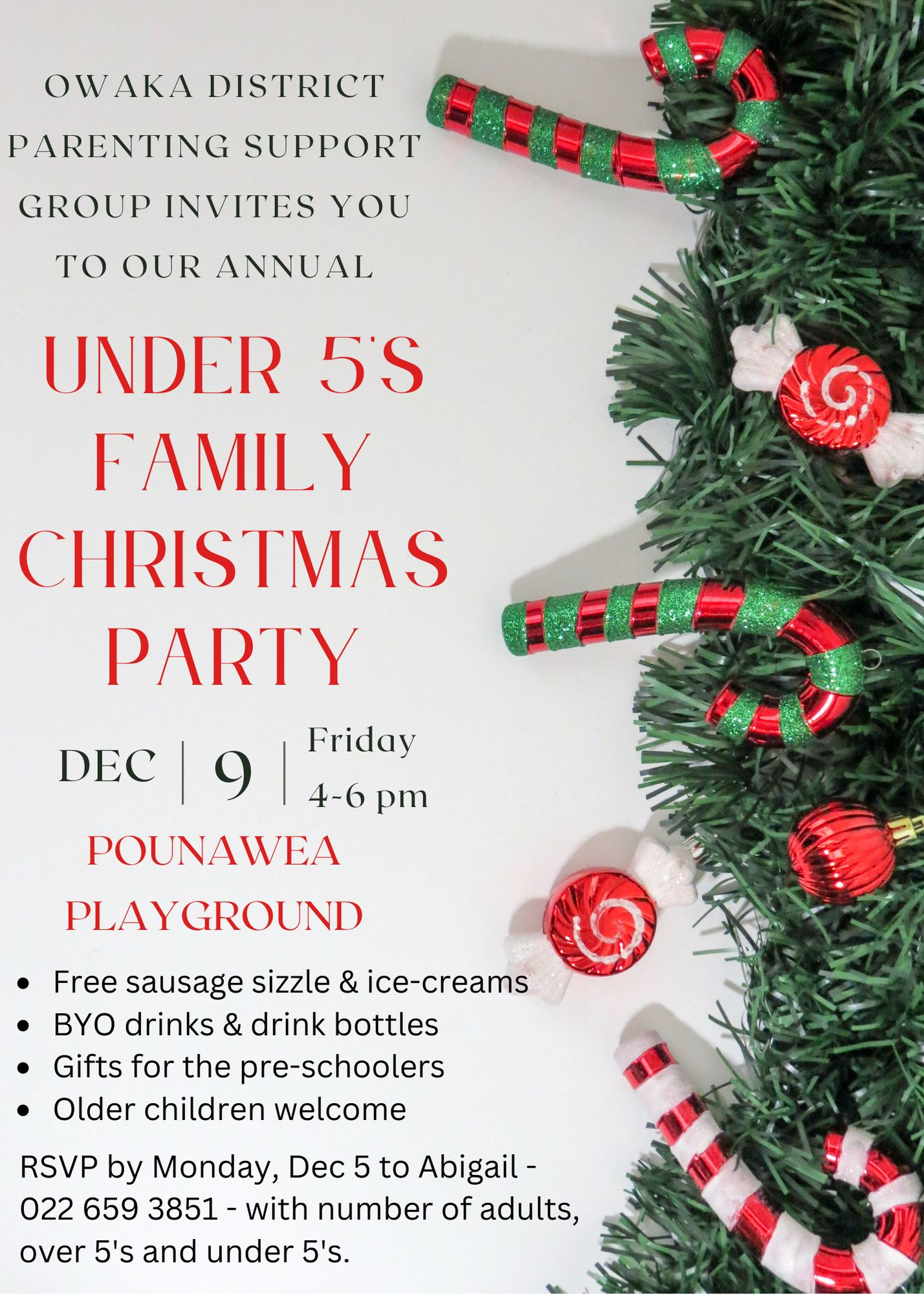 ---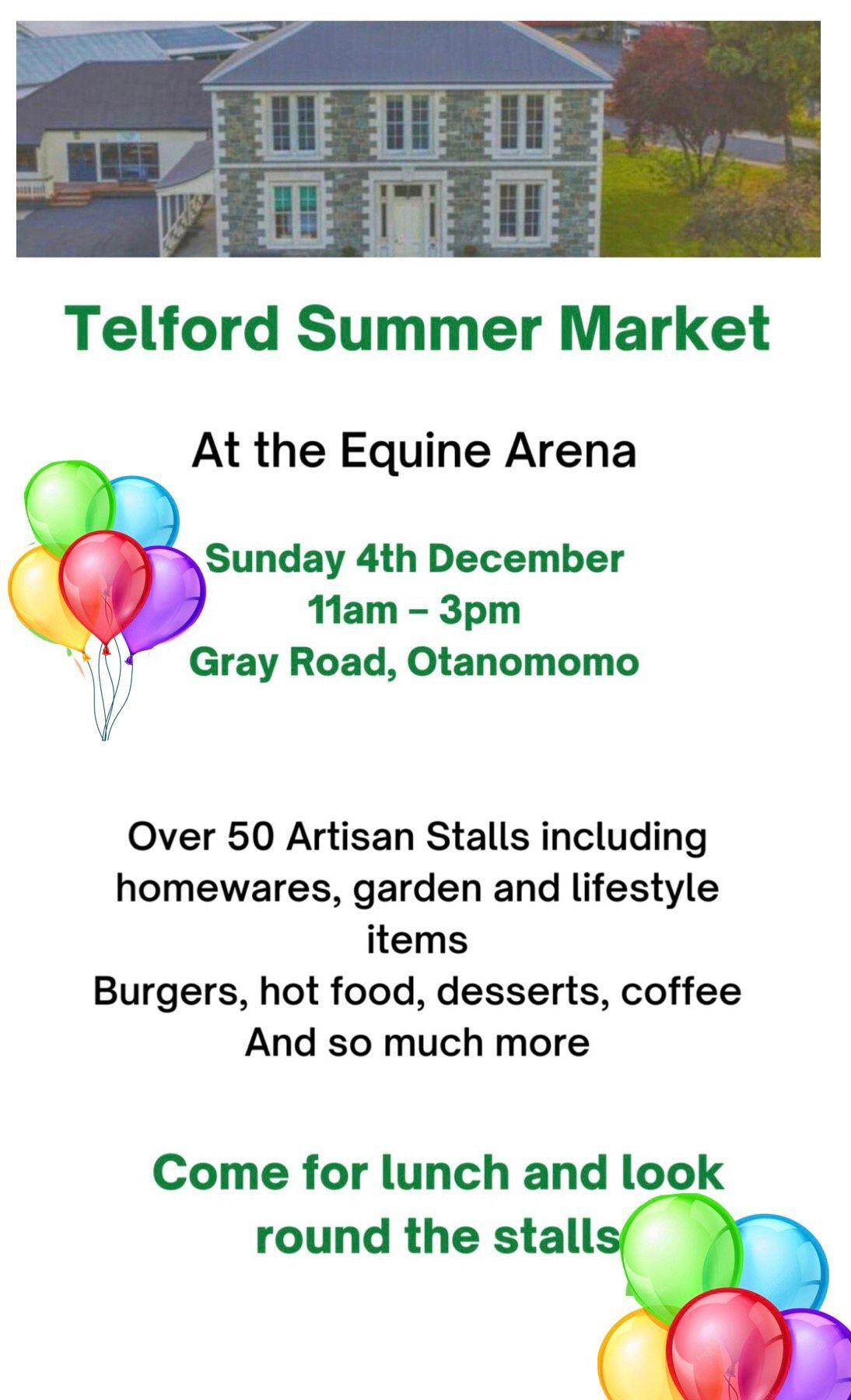 ---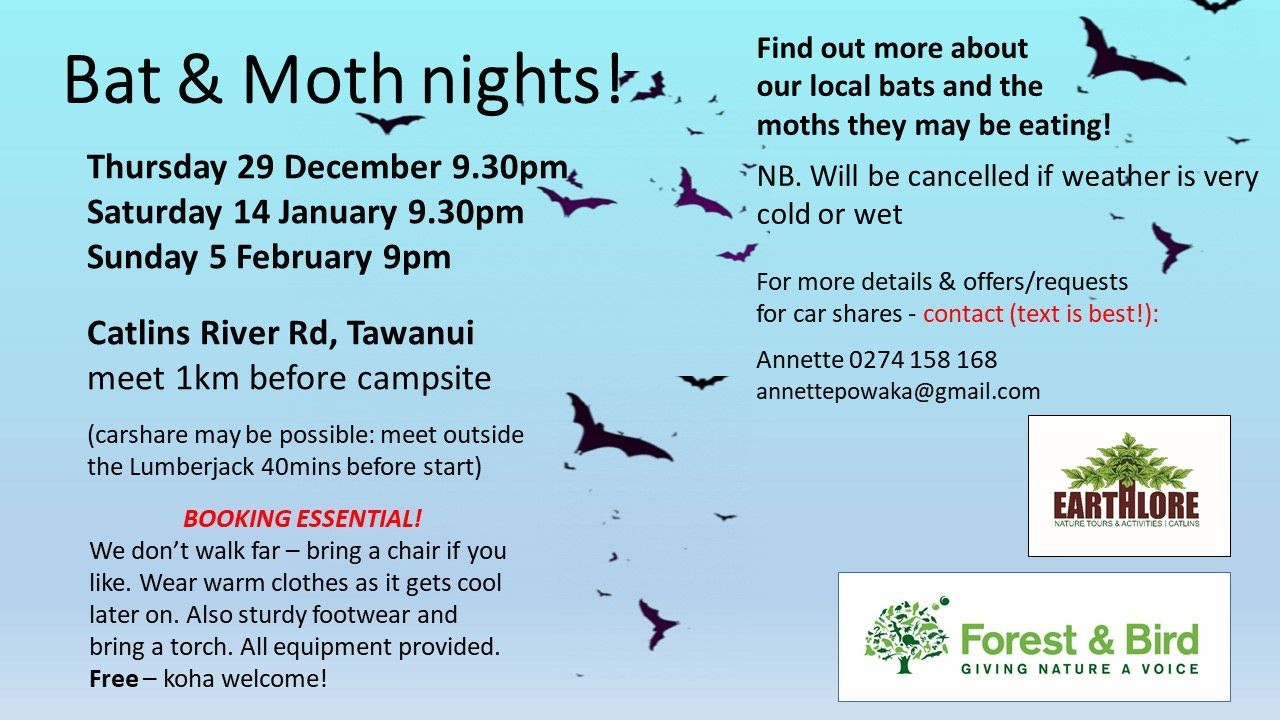 ---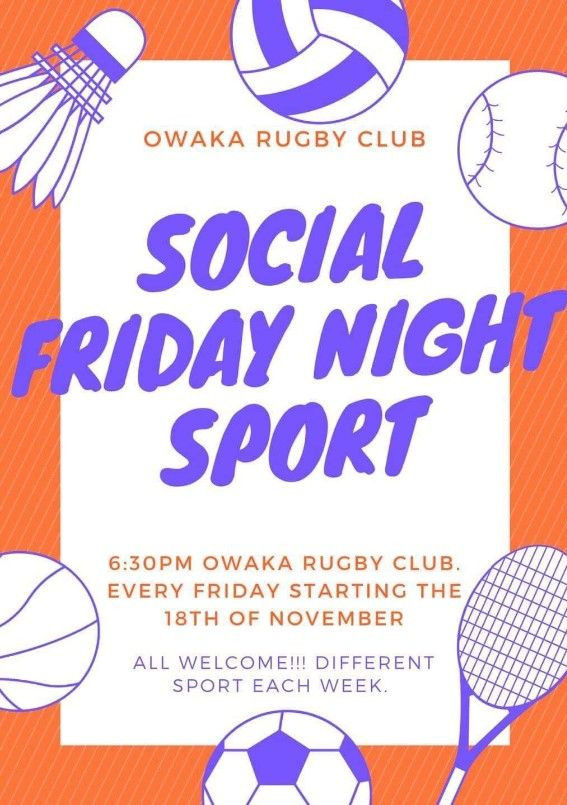 ---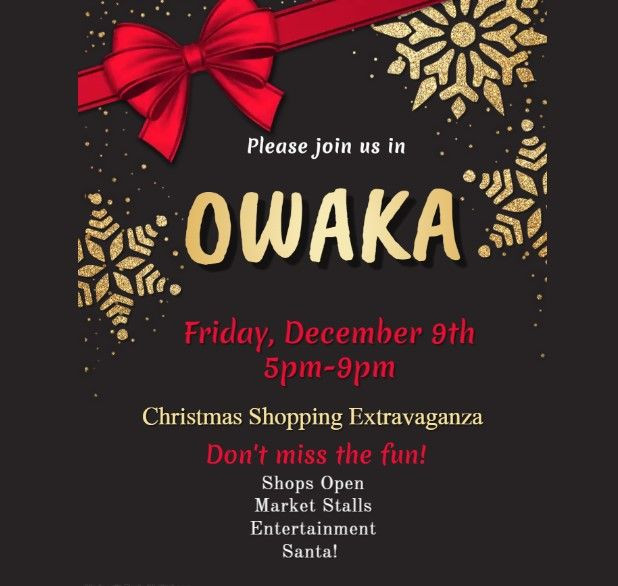 ---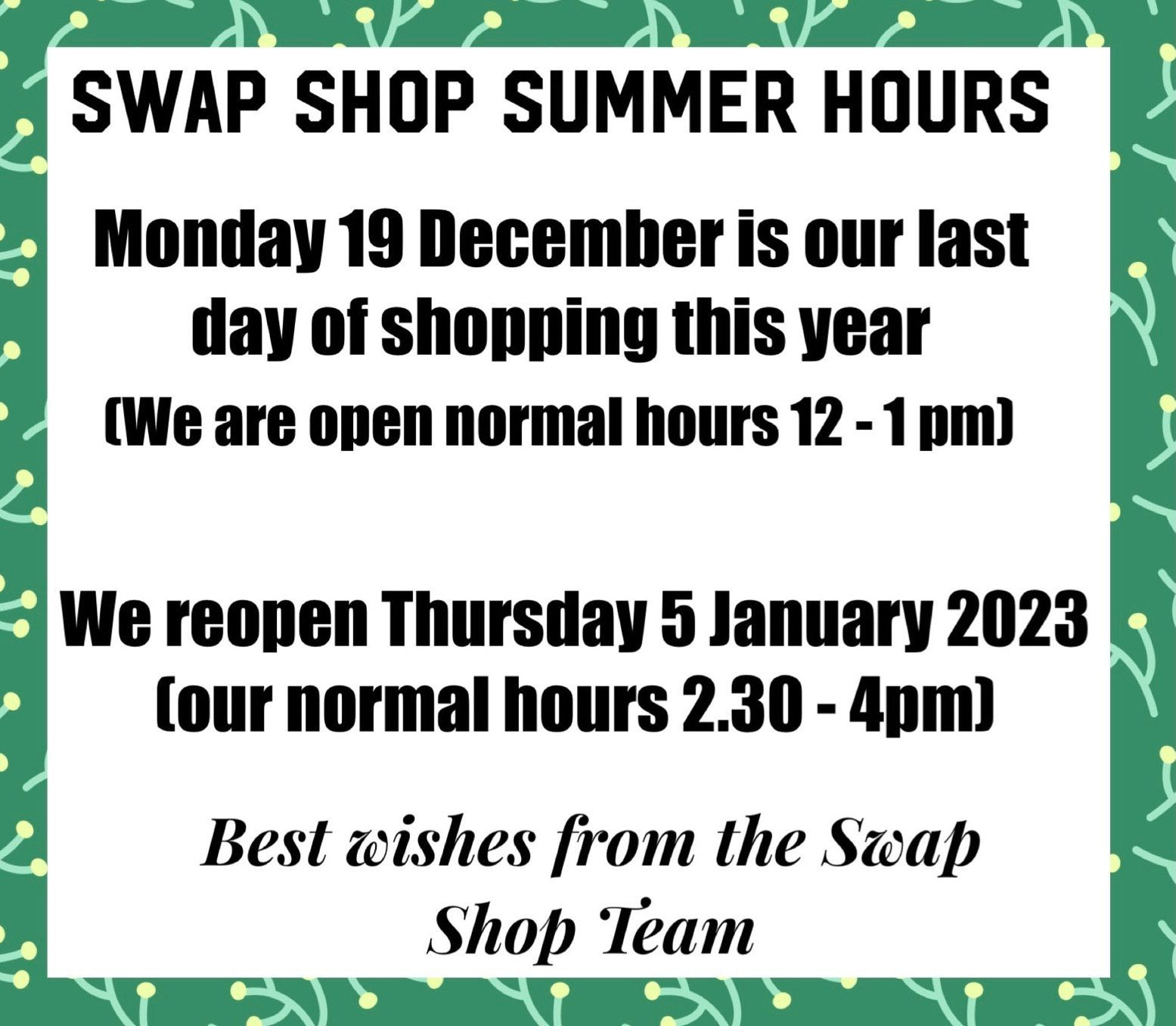 ---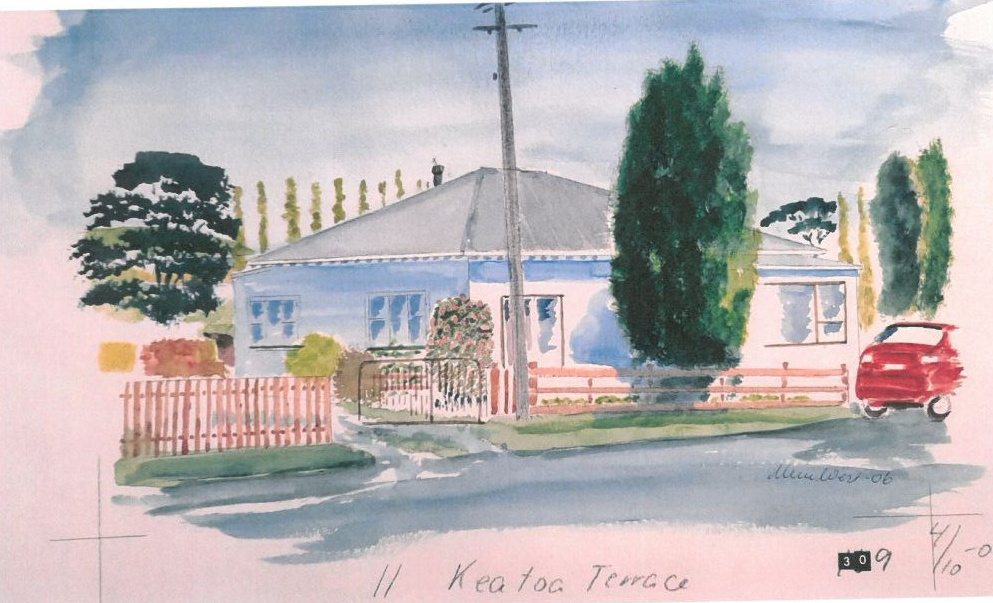 P A I N T T H E T O W N
Back in 2007, local artist Unn West decided to record and paint all the businesses and houses in Owaka. Many of these were sold to the property owners, but there are lots still available and are now for sale at $30.00 each at the Owaka Museum. Call in to see if the watercolour of your house is still for sale.
---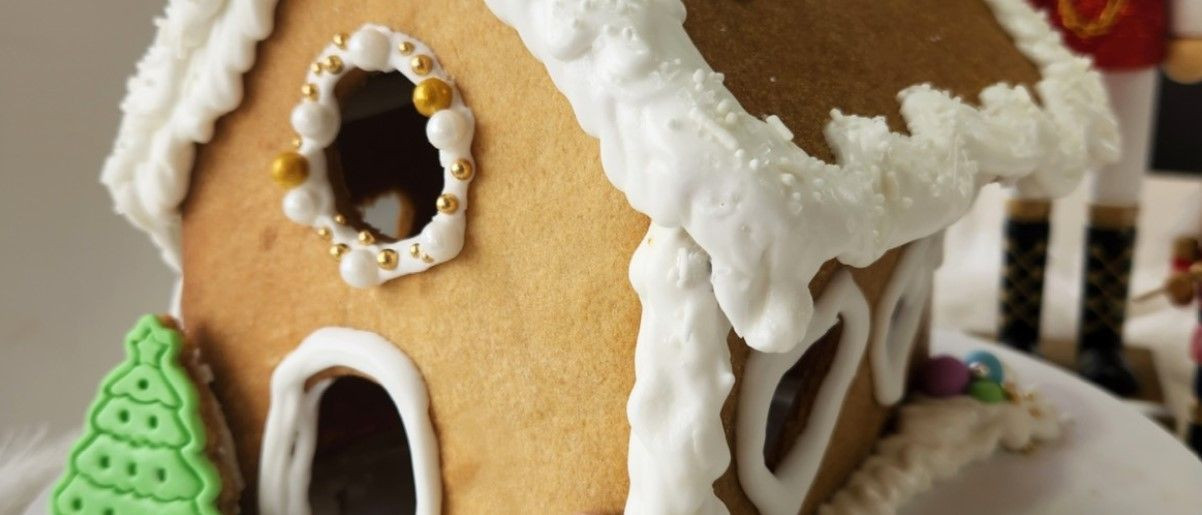 M A K I N G G I N G E R B R E A D H O U S E
Christmas isn't complete without a gingerbread house, let your imagination run wild as you craft your very own gingerbread house.
Lead by the guest tutor and cake designer from Dunedin's Creative with Jess, you'll learn how to pipe royal icing through a piping bag to create a snow effect, use buttercream icing, fondant and stamps to decorate a cookie tree and gingerbread man, form fondant balls, and add sprinkles, lollies and snowflakes of your choice. Each participant will get creative decorating their own pre-assembled gingerbread house and will receive a cake board for sturdy transport home. These tasty workshops run for one hour with all materials provided and are suitable for all gingerbread lovers young and young at heart. Saturday 10 December and Saturday 17 December, at the Toitū Classroom. Limited spaces, bookings essential find out more here!
---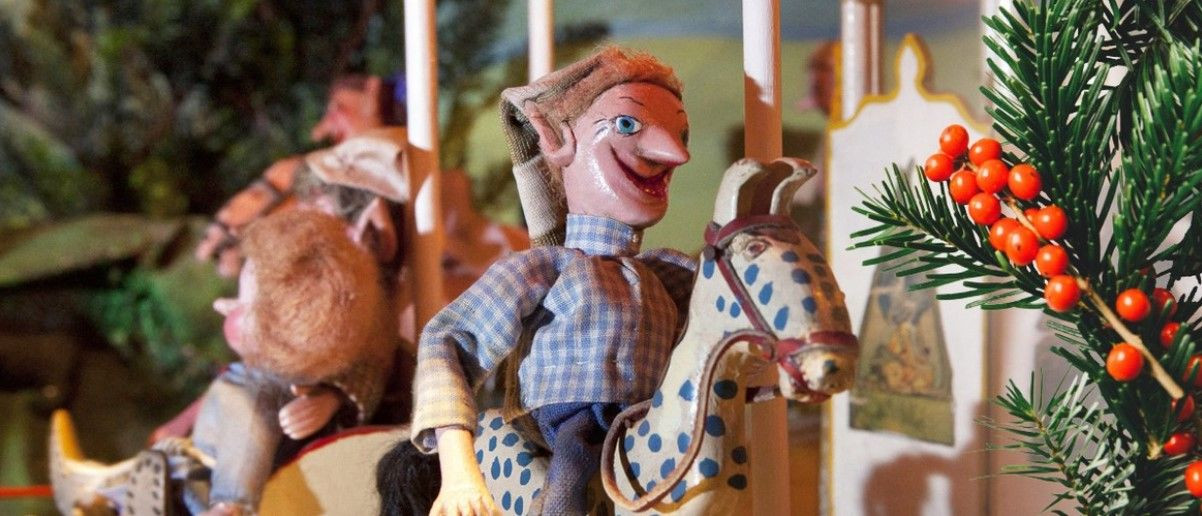 P I X I E T O W N
Take a step back in time and visit one of Dunedin's holiday treasures. Experienced by generations passed and those still to come, Pixie Town has been bringing holiday magic to the city since 1951. From merry-go rounds, to fire brigades, bakers and bankers, a pony ride and more – Pixie Town, The Mechanical Marvel of the Age is a must do this holiday season. Open through December at Toitū Auditorium.
---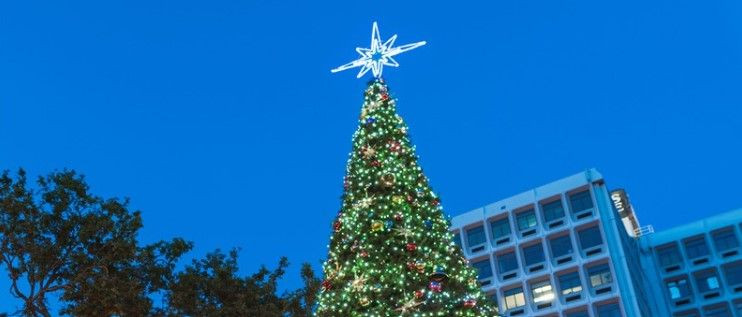 L I G H T T H E C H R I S T M A S T R E E
Head to the Octagon on Saturday 3 December to see the Christmas Tree sparkle this season. Bring the whole family and a picnic to kick-start the festive season. Tahu Mackenzie will MC the free entertainment from 6.30pm. Sing along with the choir to your favourite Christmas carol before the lighting of the tree at around 9.30pm. Refreshments available.
---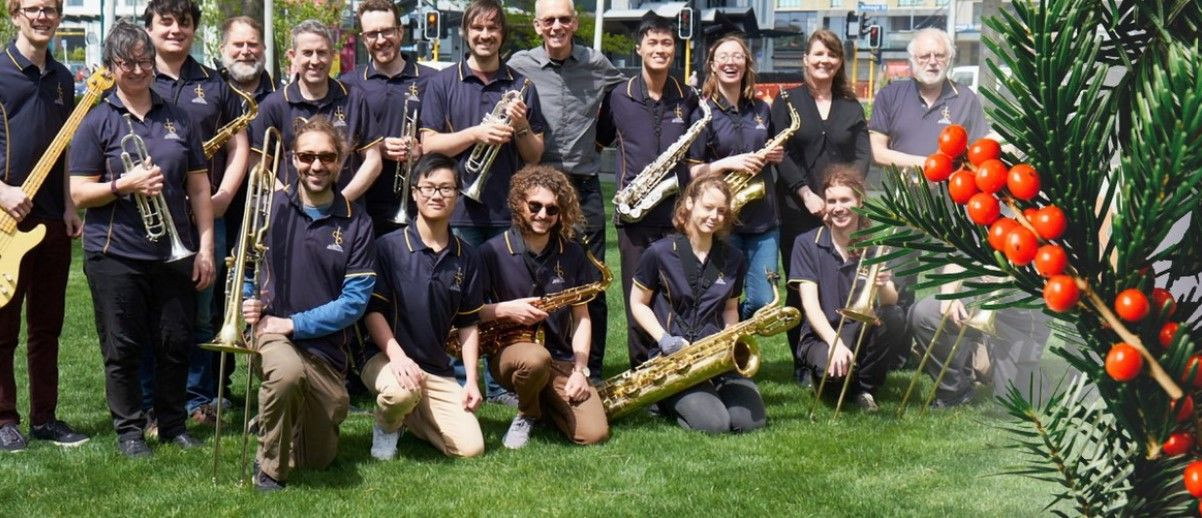 J A Z Z I T U P
Toitū is bringing you the Christmas cheer with lunchtime concerts in the Museum. From instrumental pianos, to swinging jazz bands, we've got something for everyone in the Transport and Technology Gallery this holiday season. We kick off the season with the Dunedin City Jazz Orchestra – from a swinging Jingle Bells to a mind-blowing funk version of God Rest ye Merry Gentlemen, they'll have you dancing in the streets this Christmas. 12.30pm – 1.30pm, Saturday 10 December at the Transport and Technology Gallery.
---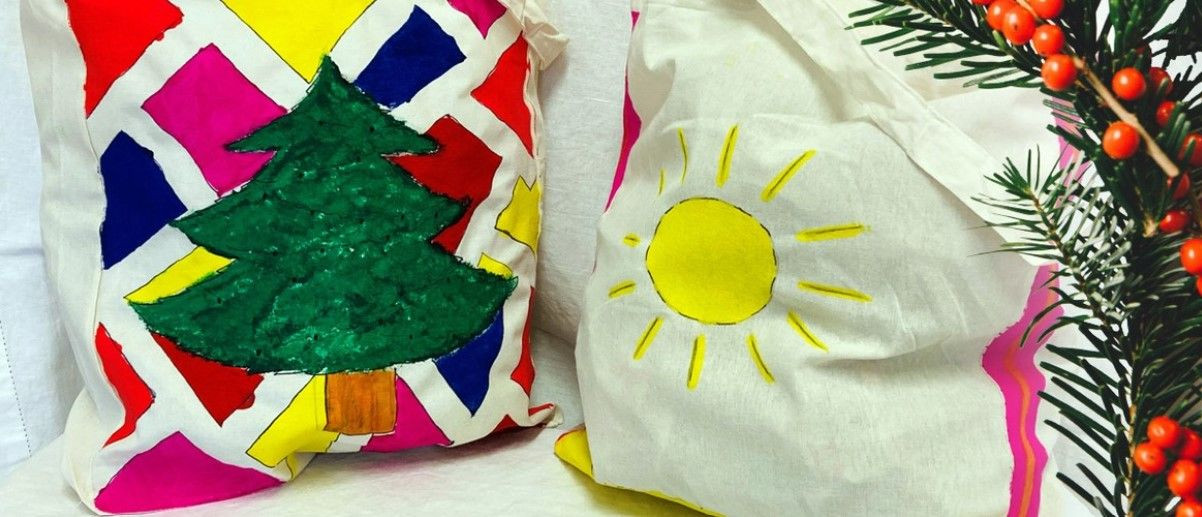 C H R I S T M A S T O T E S
Have a sustainable Christmas this year and let your creative sparks fly by designing your own reusable tote bag. Whether it's to add an extra special layer to a gift you're giving this holiday season, or to add a bit of Christmas spirit to your everyday aesthetic this December – join us for a tote-ally awesome tote bag designing workshop. There'll be Freddy Fish stencils for those die-hard Toitū fans, perhaps create your own Tiger Tea bus themed design, or even get inventive with your own designs, the possibilities are endless! These workshops go for one hour and are open to all ages. All children must be accompanied by a guardian. 10.30am and 2pm, Sunday 11th and Sunday 18th December at Toitū Classroom. $5 including booing fee.
---