Settling-in Reports:
As part of our commitment to reducing waste through Enviroschools, you should have received your child's settling-in report by email on Friday 21st February. Reports for families who do not have an email on record have been sent in the mail. If you wish to update your email address, please do so through the school portal or by calling the main office on (03) 415 8036. If your child's report has not arrived, please call the main office for an additional copy. Details of our Conferencing and Mentoring Event on March 24th and booking instructions will be shared in our next newsletter.
---
Sun Protection Policy:
Please remember, in Term 1 it is necessary for students to wear a hat when playing outside at interval and lunchtime. Hats should be plain navy, with a wide brim, both styles are available at The Warehouse in Balclutha or through their online uniform service: www.thewarehouse.co.nz/c/schools. Caps or other hats which leave ears exposed are NOT SUITABLE. Our Sun Protection Policy is available to read here for your information.
---
Year 5-7 & Year 10 Camp:
Fees for next week's Year 5-7 & Year 10 camps are now due. You are welcome to set up regular weekly/fortnightly payments with internet banking. If you are struggling to pay the fees, please contact the school office to talk about your options.
You can view and download the Gear Lists for each camp below:

We are also short of one parent helper to drive students to and from the Year 5-7 camp at Camp Columba. If you are able to help, please email Mrs Bopp: carolynb@catlins.school.nz.
---
Year 8/9 'House to House' Challenge: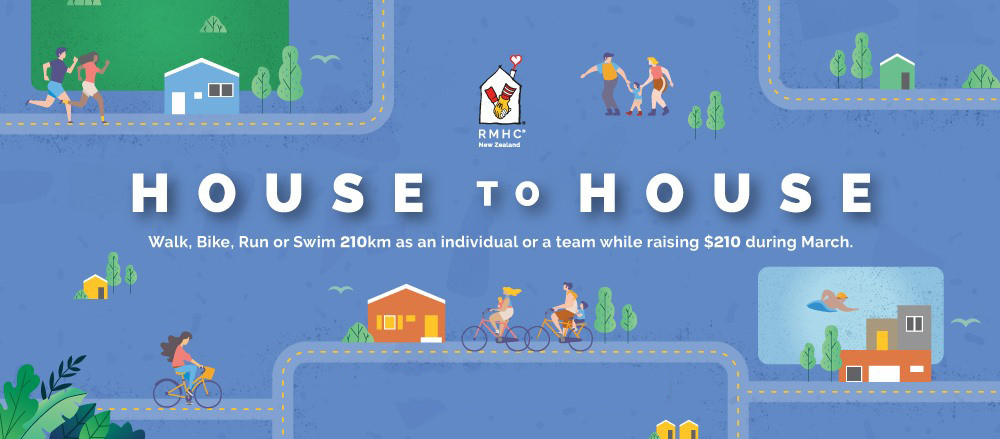 Our Year 8/9 students are undertaking the Ronald McDonald 'House to House' Challenge during the month of March. Between them, they will be walking, running, biking and swimming at least 210km to help raise money for Ronald McDonald families with a hospitalised child. This is a wonderful cause and our students need your help to raise at much money as possible.
If you'd like to sponsor our students on their month-long challenge, follow this link:
Year 8/9 Ronald McDonald 'House to House' Challenge 2020
On Friday, 13th March there will be a gold coin donation Mufti Day, here at school to raise money for 'House to House'. There will also be baked goods to buy on the day. Look out for more information closer to the time on our Facebook page.
---
Breakfast Club Help:
We are looking for some parent (or student) volunteers to help with our 'Breakfast Club' on a Thursday & Friday morning, for half an hour from 8.30 am. If you are interested and can help, please email Mrs Bopp: carolynb@catlins.school.nz.
---
Year 11-13 Geography Field Trip:
Can Year 11-13 students please remember their Geography Research Field Trip to the river on Thursday 5th March, weather permitting. Please remember to bring the following items with you: wet suits, warm clothing, towel, insect repellent and a sun hat.
---
Owaka Junior Rugby Registrations 2020: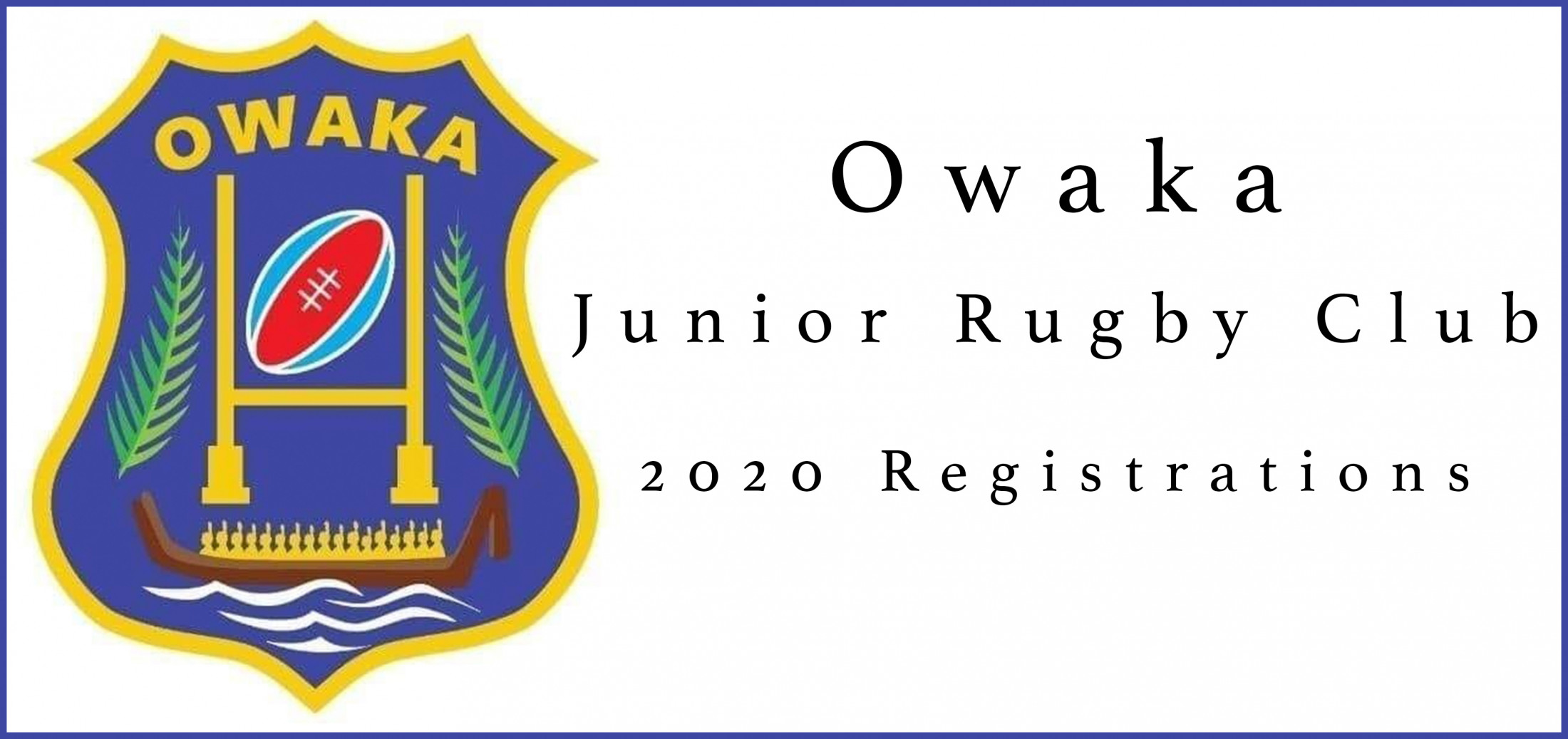 If your child would like to play rugby this season could you please go to www.sporty.co.nz/owakarugby and register your child under the Junior section. We are aiming to have teams for under 7, 9, 11 and a combined under 13 team.

For more information please email longpoint@ruralinzone.net or phone Jen on 027 4054 007.
---
Events
When:
Monday, 2nd March
---
When:
Monday, 2nd to Saturday, 7th March
---
When:
Tuesday, 3rd March
---
When:

Wednesday, 4th March 7:00pm


Location: Hall
---
When:
Wednesday, 4th March
---
When:
Wednesday, 4th to Friday, 6th March
---
For your information: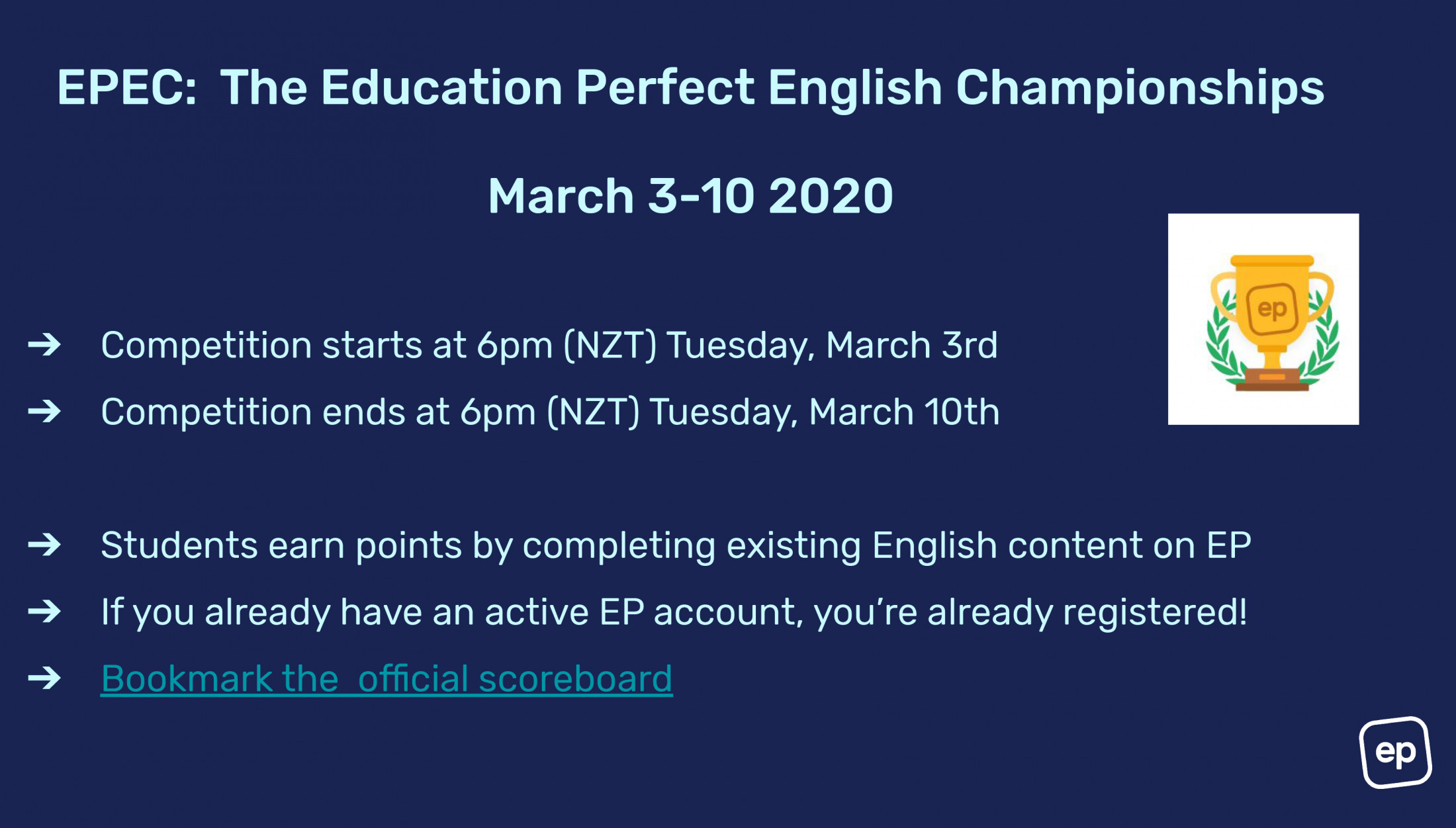 For more information, see the Education Perfect website: Education Perfect 2020
For more information, please see: Early Years Seminar - 4th March
---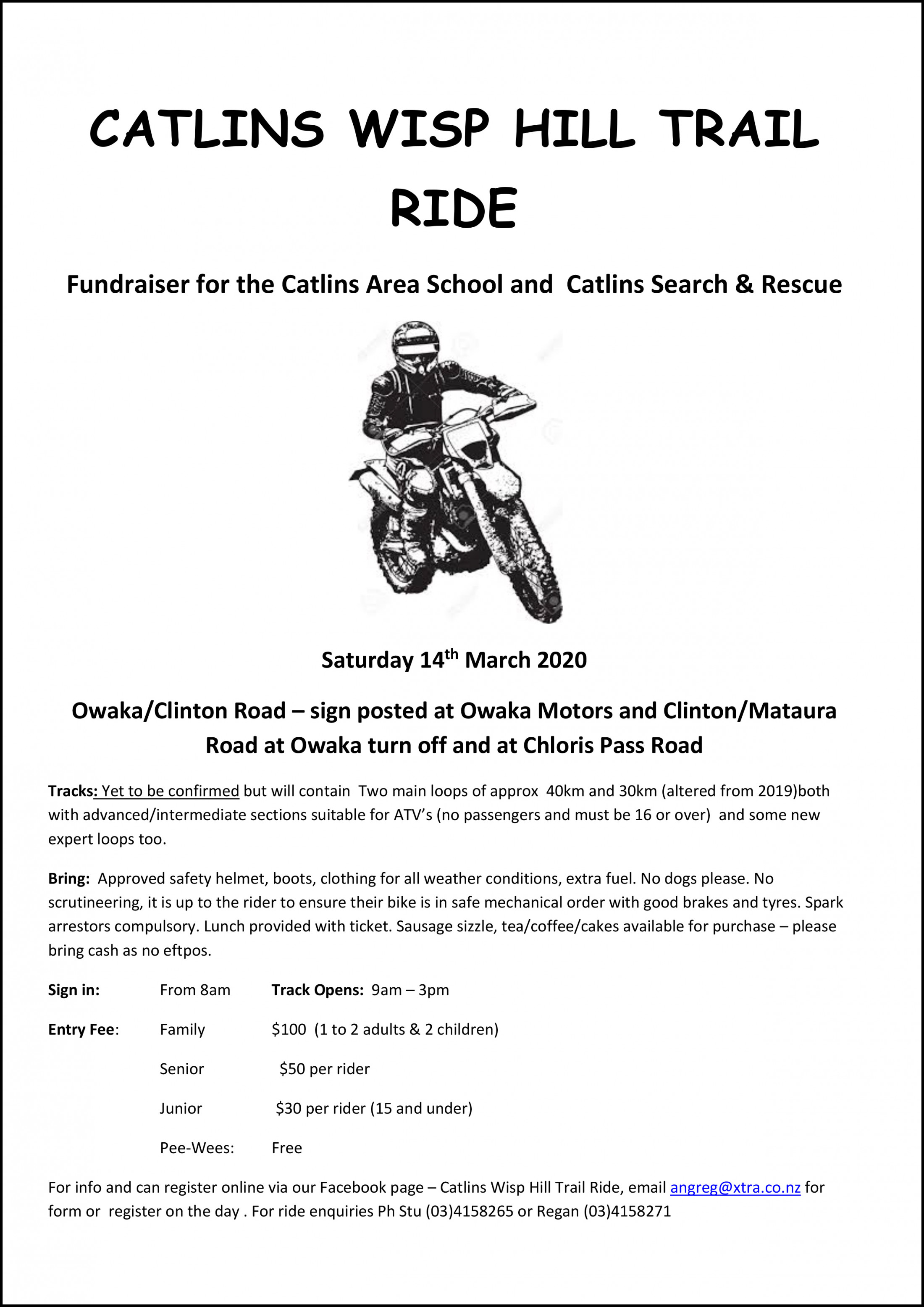 To view and download the Trail Ride entry form, please click the link here: The Catlins Wisp Hill Trail - Ride Entry Form 2020. You can also enter online through the following Google link: Online Entry Form
---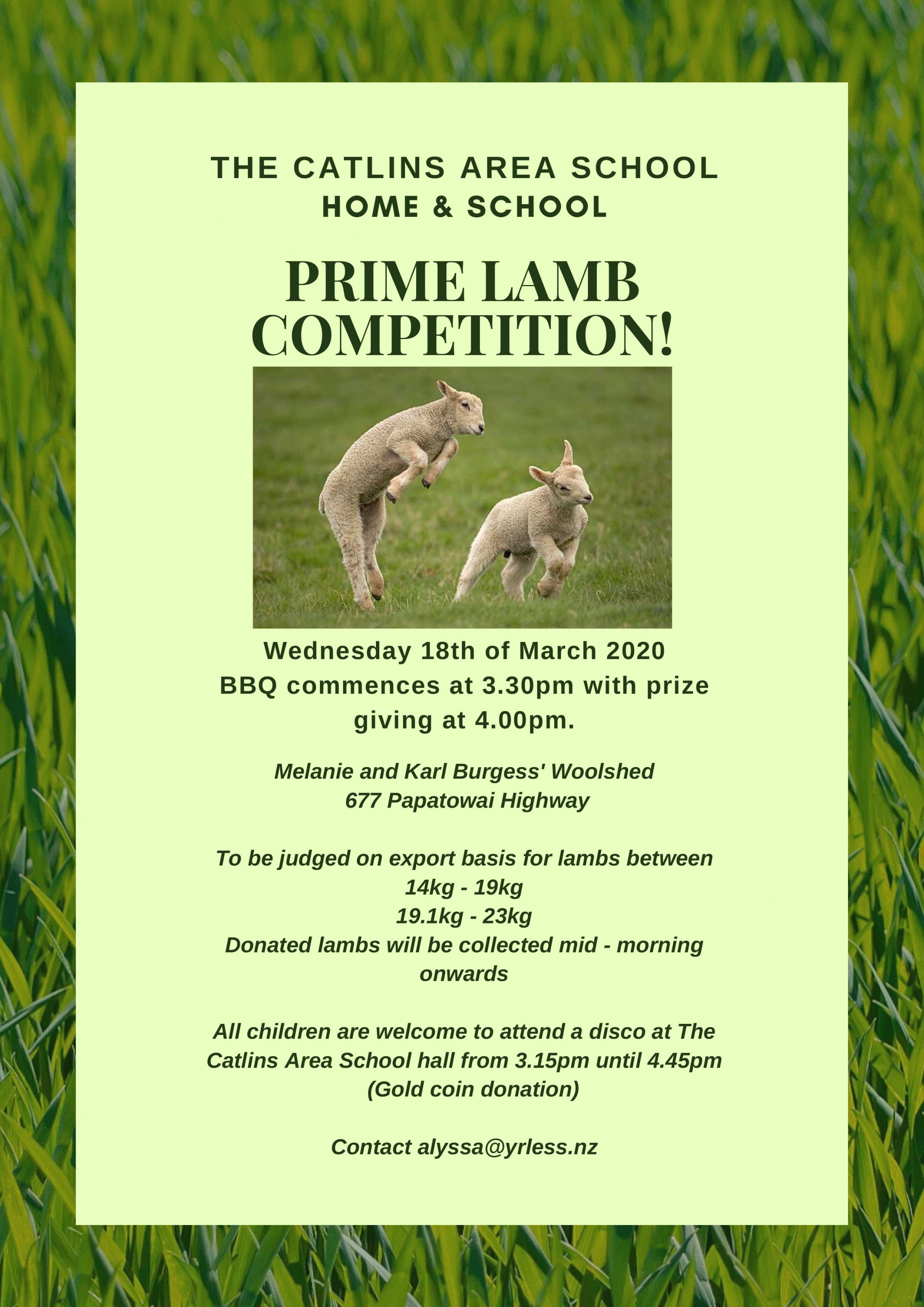 ---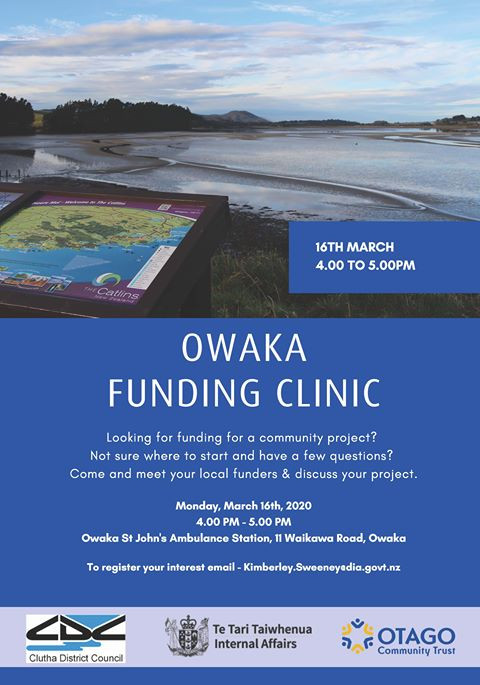 ---