Asia Think Tank Summit -
Managing Transitions, Trade and Turmoil: The Role of Think Tanks
Bangkok; 10-12 November 2019
Organised by the ESCAP and TTCSP, with support of ARTNeT and its institutional members, ERIA, ADBI and other partners, the Summit will provide a platform for learning, exchange of practices and incubation of new ideas and approaches to sustainable development for diverse group of economies amidst the great disruptors. It will also provide an opportunity to discuss issues related to establishment or strengthening the think tank institutions in support of the long-term evidence-based policymaking. Finally, it is an opportunity for representatives of ESCAP member States' Governments to meet other partners, think tanks and policy leaders engaged in identifying options for sustainable development of the region for claiming the Asian Century. More...
4th ASEAN Economic Integration Forum 2019:
Inspiring Bold, Resilient and Inclusive ASEAN
Bangkok; 9-10 December 2019
The Forum will highlight keynote addresses on selected sub-themes including business and human rights, rural economic and community-based development, aviation industry, entrepreneurship, trades and investment. There will be parallel sessions to present applied research papers. The Forum strives to feature the identification of and proposals for bridging inter- and intra-regional development gaps in the ASEAN region, to contribute to policy making that looks at holistic and bottom-up approach within the region, to promote meaningful discourse on AEC that goes beyond economic imperatives and to highlight the importance of social forces in promoting ASEAN community. More...
ESCAP-ARTNeT-ITD Trade Facilitation for Sustainable Development Workshop 2019
Bangkok; 23-26 September 2019
This workshop contributed to building the capacity of government officials on implementing trade facilitation and paperless trade initiatives and enabling them to more effectively support or participate in the work of National Committees on Trade Facilitation or related inter-agency bodies. The workshop presented an update on the state of implementation of key trade facilitation and paperless trade measures in the region. Many key measures and instruments on trade facilitation were discussed, including the WTO Trade Facilitation Agreement and the new Framework Agreement on the Facilitation of Cross-Border Paperless Trade in Asia and the Pacific. On practical implementation, participants were also learning how to conduct a Business Process Analysis (BPA) to simplify trade procedures and about emerging topics on trade facilitation in the context of logistics management, gender specific dimensions of trade facilitation and e-commerce technical issues. More...
Asia-Pacific Trade Facilitation Forum 2019
New Delhi; 17-18 September 2019
The 9th Asia-Pacific Trade Facilitation Forum focused on how digital and sustainable trade facilitation measures and practices can bring prosperity to the Asia-Pacific region. It was organized by the ARTNeT partners the ESCAP and ADB, in collaboration with the Ministry of Commerce, India and Confederation of Indian Industry. Over 270 participants from more than 30 countries at the biennial Forum shared experiences and perspectives on different aspects of trade facilitation for sustainable development, including trade finance, cross-border ecommerce, paperless trade and innovative applications of emerging technologies.
The Forum discussed results of a new Global Survey on the progress made by countries in implementing trade facilitation measures and how to address remaining challenges in this area. It also launched a joint ESCAP-ADB Asia-Pacific Trade Facilitation Report 2019 with a theme chapter of "Bridging Trade Finance Gaps through Technology". Three Trade Facilitation innovation Awards were also shared in the closing session. More...
ARTNeT Seminar:
Regulating CrossBorder Data Flows in a Data-Driven World
Bangkok; 9 September 2019
While the free cross-border movement of data is essential to many aspects of international trade, several countries have imposed restrictions on these data flows. Professor Andrew Mitchell, Melbourne Law School, Director of an ARTNeT institutional member, Global Economic Law Network, Director of Studies (International Economic Law) in the Melbourne Law Masters, and a member of the Indicative List of Panelists to hear WTO disputes, gave a presentation on "Regulating Cross-Border Data Flows in a Data-Driven World" on 9 September 2019 in ESCAP, Bangkok. By sharing his experience as a researcher as well as a practitioner, he argues that reformed WTO rules, which take account of the policy challenges of the data-driven economy, are required. These reforms would facilitate internet openness while ensuring consumer and business trust, promoting digital inclusion of developing countries, and incorporating clear exceptions for legitimate domestic policies. More...
UN Global Survey on Digital and Sustainable Trade Facilitation
- Interactive visualization of Trade Facilitation & Paperless Trade data
To help countries benchmark and reduce the time and cost of trading across border, the UN Regional Commissions jointly conduct the UN Global Survey on Digital and Sustainable Trade Facilitation. The Survey currently covers 128 economies around the globe, and 53 measures related to the WTO's Trade Facilitation Agreement (TFA), as well as emerging regional and global initiatives on paperless trade or e-trade, such as the recent Framework Agreement on Facilitation of Cross-Border Paperless Trade in Asia and the Pacific (FA-CPT). The Survey leads to the production of a Global Report and five Regional Reports, which aim at providing insightful information for policy makers to harness trade as a key means of implementation of the 2030 Agenda for Sustainable Development. More...
ARTNeT people on the move
Cherdsak Virapat
recently assumed the role of the Executive Director of International Institute for Trade and Development (
ITD
) Thailand, an ARTNeT institutional member. Before joining ITD, Mr. Virapat was the Director-General of Network of Aquaculture Centres in Asia-Pacific (NACA) from 2014 to 2019. He was also the Executive Director of International Ocean Institute Headquarters (IOI HQ) in Malta during 2008-2014. He previously served as an officer of the Royal Thai Government for 27 years.
ARTNeT e-forum: Is Technology Driving the US-China Trade War
September 2019
The United States (US) and China are locked into a trade war, wherein actions and counter-actions are being taken at a bilateral level, bypassing the established international trade rules. Although the immediate trigger of the US trade restrictions on imports from China was the trade deficit of the US, it is increasingly becoming clear that technology is the real driver of the tensions.
More...
Asia-Pacific Trade Facilitation Report 2019:
Bridging Trade Finance Gaps through Technology
September 2019
The report reviews trade facilitation progress in Asia and the Pacific and explores how technology can help bridge trade finance gaps.
Trade facilitation initiatives can make an important contribution to economic growth and poverty reduction by lowering trade costs and increasing trade flows. This report reviews trade facilitation progress in the region, including recent trends in paperless trade and transit facilitation and the impact of trade facilitation initiatives on trade costs. It also features a special chapter on how trade finance gaps—especially prevalent for small and medium-sized enterprises—can be bridged by technology, and the supporting policies and actions required to make this happen. More...
Trade and Regional Integration in South Asia:
A Tribute to Saman Kelegama
September 2019
This book is a compilation of contributions from leading academics and international trade experts from South Asia, and is dedicated to Late Dr. Saman Kelegma, whose untimely death in June 2017 left a huge void in the field of regional economic cooperation. Keeping in mind his enduring legacy regarding regional cooperation in South Asia, the chapters in this book cover issues related to the challenges of deeper regional integration in South Asia, and propose strategies to address these challenges.
Readiness Assessment for Cross-Border Paperless Trade: Mongolia
September 2019
This report by ESCAP provides an assessment of Mongolia's readiness for cross-border paperless trade, i.e., the conduct of international trade on the basis of electronic data and documents. Based on the findings and recommendations, an individual draft action plan towards cross-border paperless trade for Mongolia is also presented in this report.
More...
Non-Tariff Measures in ASEAN - An Update
September 2019
This report by our partner
ERIA
documents the trend and pattern of NTMs utilisation in ASEAN based on the updated ERIA–UNCTAD NTMs in ASEAN database, and discusses ongoing regional and national efforts in addressing NTMs. We recommend four areas of focus in addressing NTMs: (1) Enhancing the capacity of issuing and enforcing agencies; (2) Establishing an inter-agency committee to oversee and manage the use of NTMs; (3) Strengthening engagement and consultation with the private sector and research institutions; and (4) Applying regulatory practice core principles.
More...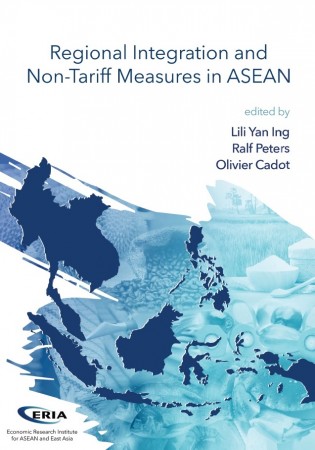 Regional Integration and Non-Tariff Measures in ASEAN
September 2019
This book by our partner
ERIA
explores relevant issues related to NTMs and their relation to regional integration issues in ASEAN countries. It discusses contemporary issues related to NTMs in the region, including recent world trends, regulatory convergence, government procurement, and environmental issues. The studies in this book employ relevant impact analysis methodologies for NTMs, from ad-valorem equivalent (AVE) to CGE modeling.
More...